Maybe some fellow gamers play with the HBF maps. I Never played in this map, so after a quickly reading, some dudes comes on my mind: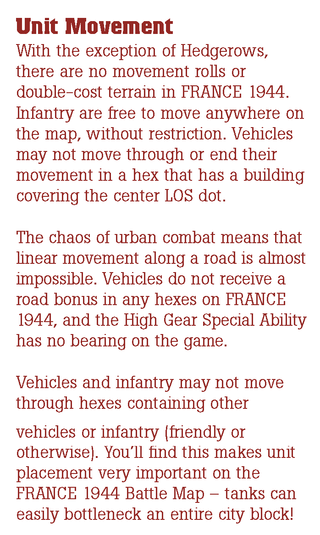 (UNIT MOVEMENT)
The last paragraph (...may not move through hexes containing others veh or infantry):
Means you can´t overstack in the movement phase. You need space to move in the hex. Obviously at the end of the movement phase, check for penalties (overstack)
-
(STACKING WHILE MOVING)
Example. 3 russian soldiers in a hex, can the 1st german soldier move in the hex provoking DF? No?
Can you explain me the new "red rule".
-
(ATTACK and DEFENSE)
Example of Paratroopers.
I dont understand why when Stug fires, neither paratrooper is able to make a sucessfull cover roll....Is Bombardment and Blast or only Blast? Paratroopers can make sucessfull (5,6) (inside buildings). Yeah, maybe Stug III D and SA Seasoned Crew (only 6 for paras).
-Stacking: We can updated the HBF 2 friendly units to the 3 units (1 vehicle) with "hit" penalties of the last WOTC rules.